2018
The last time we saw the Lancaster Legends football team they were playing at Clarence High School. The squad was in the Far West Regionals up against the Section V participant Aquinas Institute. They would fall that afternoon to the eventual state champion Little Irish but the accomplishments of the season would not be overlooked.
The team would see numerous players receive recognition for their play on the field. They had comeback victories against OP and Williamsville North, that included overcoming sickness that went around that week against the Trojans. They would have to face the Bennett Tigers again in Orchard Park, the only Section VI team to beat a Lancaster crew since 2015 and beat them that second time.
The Legends had overcome the odds to win a Section VI championship in 2018, the 3rd in a row and the first time that has occurred in program history.
2019
That was last year, 2019 is now upon us and the slate is clean for all teams entering the year and they have their eyes on the Legends.
There are a few changes to Class AA for 2019, Williamsville North is now in Class A, the only team dropping out. Jamestown will be back after taking a year in Class A along with the Frontier Falcons. They are also the 2 teams in Class AA that the Legends will not face this year.
The Depew game will once again be the last game of the season. Last year Class AA playoffs started later than the other Classes so Depew had to finish their season in Week 7.
Legends vs Engineers
This Friday Night the Lancaster Legends will welcome Hutch Tech to Foyle-Kling Field for game 1 of the season. Lancaster leads the series with the Engineers 5-0 with the last meeting taking place last year in week 2, a 35-18 victory. Lancaster and Hutch Tech have met in the playoffs twice, in 2016 and again in 2017, both games took place at LHS. That 2017 playoff game was the first on what would be a State Playoff push to the Carrier Dome, check it out: Legends vs Hutch Tech.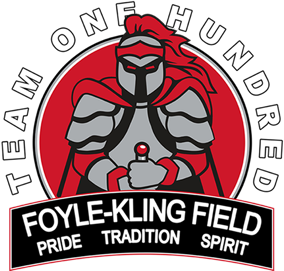 Lancaster Alumni- Team 100
As part of LHS Football Program's celebration of its 100th year, ALL ALUMNI football players, cheerleaders and coaches are invited to join in the pre-game introductions at 6:15pm at Foyle-Kling Field. Please report to the scoreboard end zone and assemble by the decade of your playing years.
ALL ALUMNI are invited to an informal gathering at the Lancaster Elks Lodge, 33 Legion Pkwy in Lancaster NY, after the game from 9-12pm.
Don't miss out on this great opportunity to support our Varsity Team 100 players and to celebrate all our Alumni!