Legends vs Engineers Video Recap
---
Legends vs Engineers
The Lancaster Legends Football team will be on the road this Friday night as they take on Hutch Tech in a Class AA match up. This will be the 5th meeting between the two schools with Lancaster holding a 4-0 advantage. Two of those game were in the playoffs: 2016, a 35-12 W and in 2017 which was a 35-0 victory.
The Last Time Out
The Legends opened up the 2018 season against the Lions of Lockport HS and were able to come away with a 54-22 win. The victory marked the 10th time that Lancaster have beaten the Lions. The last time Lockport beat Lancaster was in 2003, a 14-0 victory in week 2.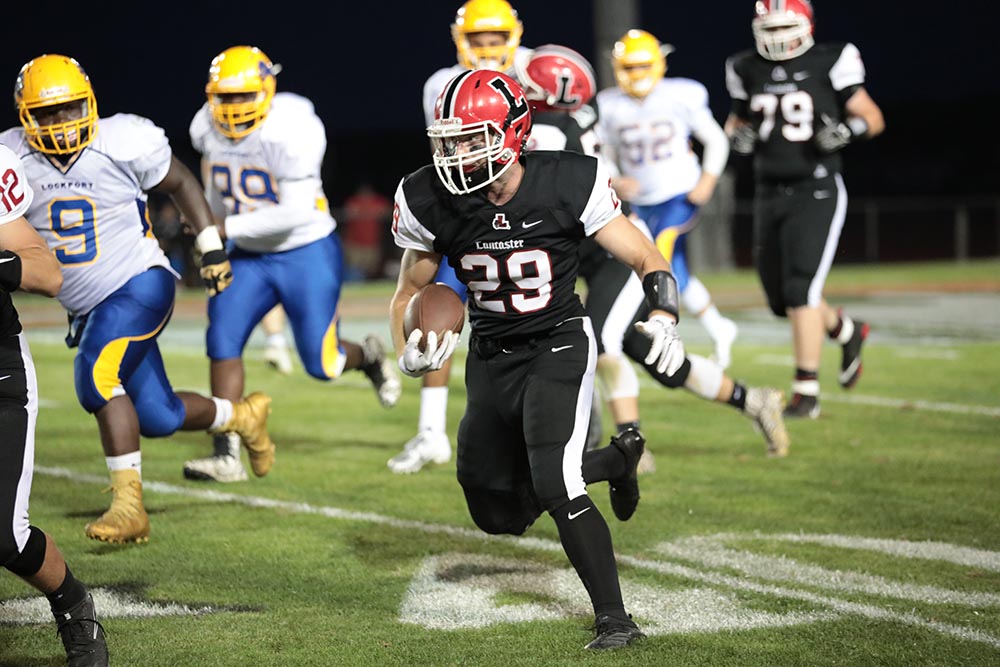 Lancaster vs Lockport 08.31.18
Hutch Tech played Williamsville South last week at W.S. and were able to get the W with a 34-14 score. The Engineers were able to get five take aways on the night and were able to put those turnovers into points.
Recent Meetings with Hutch Tech
Lancaster 5 Hutch Tech 0
| Year | | |
| --- | --- | --- |
| 2018 Week 2 | Lancaster 35 | Hutch Tech 18 |
| 2017 Playoffs | Lancaster 35 | Hutch Tech 0 |
| 2016 Playoffs | Lancaster 35 | Hutch Tech 12 |
| 2016 Week 6 | Lancaster 51 | Hutch Tech 24 |
| 2015 Week 5 | Lancaster 45 | Hutch Tech 8 |
Week 2 Kickoff is set for 7:30
---
Lancaster Legends
| | W | | L | |
| --- | --- | --- | --- | --- |
| | 2 | | 0 | |
| Date | | vs. | H/A | Score |
| 08/31 | | Lockport | H | W 54-22 |
| 09/07 | | Hutch Tech | A | W 35-18 |
| 09/14 | | WN | A | 7:00pm |
| 09/21 | | Clarence | H | 7:30pm |
| 09/27 | | Bennett | A | 7:00pm |
| 10/05 | | Niagara Falls | H | 7:30pm |
| 10/12 | | Depew | H | 7:30pm |
| 10/19 | | Orchard Park | A | 7:00pm |
Hutch Tech
| | W | | L | |
| --- | --- | --- | --- | --- |
| | 1 | | 1 | |
| Date | | vs. | H/A | Score |
| 08/31 | | WS | A | W 34-14 |
| 09/07 | | Lancaster | H | L 18-35 |
| 09/14 | | Orchard Park | A | 7:00pm |
| 09/22 | | Niagara Falls | A | 1:00pm |
| 09/27 | | Lockport | H | 7:30pm |
| 10/05 | | Clarence | H | 7:30pm |
| 10/13 | | Bennett | A | 1:00pm |
| 10/20 | | WN | H | 1:00pm |